Bordeaux blends; klassiekers & alternatieven, finesse & kracht, terroir & techniek, historie & toekomst, the beauties & the beasts…….
Wijn is emotie.
Het is een cliché, maar een cliché is nu eenmaal met reden een cliché; het is de realiteit.
De afgelopen week genoot ik van een bijzondere dag. Een dag vol emotie, een dag die een betekenisvolle wijn verdiende. Ik las op Facebook dat iemand zich aan een glas 'Slurp' waagde en realiseerde me hoe belangrijk het is om het kaf van het koren te scheiden en marketing-onzin niet met intrinsieke waarde en oprechte emotie te verwarren. Ik koos daarom voor de 2005 Brunello di Montalcino van Gianni Brunelli, geen puntenmonster, maar een wijn met karakter en een verhaal, passend bij een heerlijke avond 'in goed gezelschap'.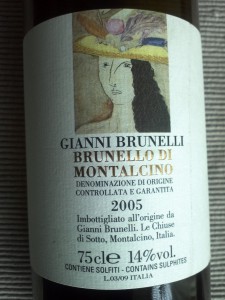 Wine is emotion.
It 's a cliché, but a cliché happens to be a cliché for a reason: it's reality.
Last week I enjoyed a special day. An emotional day that deserved a meaningful wine. I read on Facebook that someone was going to drink a glass 'Slurp' and realized how important it is not to confuse marketing nonsense with intrinsic value and heartfelt emotion Therefore, I chose the 2005 Brunello di Montalcino of Gianni Brunelli, not a pointless points wine, but a wine with character, a story and the perfect match for a lovely evening in good company.
The wine was one of the last vintages Gianni Brunelli was allowed to make.

Gianni Brunelli, the man who made such an impression on me before had to leave his so cherished life too early.
It was about 20 years ago when we met. He was not my first love, but was the first man who kissed me. As a matter-of-fact, timid and
very heterosexual Dutchman, he scared me by not only hugging me, but also giving me two prickling kisses. Prickling quite literally, because even though it was only on my cheeks, his short beard made me understand why it's recommended to avoid any contact with porcupines and why women appreciate razors so much. But in the end, it was the warm friendship that Gianni confirmed and made my cheeks glow, instead of his shaggy beard.
Over the years we shared our passion for fine wines, good food,
intriguing women, music, art and all other pleasures of life. Although he didn't bother to speak any English and my Italian was (and still is) very limited, we understood each other perfectly. Another cliché. Wine is not just emotion, but also communication.
I knew Gianni Brunelli as a passionate visionary. He saw opportunities where others saw problems and made dreams come true. He was the mastermind behind the successful Osteria le Logge in Siena, the driving force of the winery Le Chiuse di Sotto and he laid the foundation for a wonderful wine bar opposite le Logge in the catacombs of Siena, carved out by hand centuries ago in the rocks deep beneath this wonderful city.

In 1987 Gianni Brunelli bought Le Chiuse di Sotto, the domain northeast of Montalcino, where his father already planted a vineyard in 1947. Here he made a appraised by many Rosso and Brunello di Montalcino, as well as a blend with grapes other than Sangiovese and a very fine olive oil. In 1998, he transformed an old farmhouse into his office, house annex guest house 'Podernovone', close to Sant' Antimo between Montalcino and Castelnuovo dell'Abata.
Here his dogs enjoy life while Gianni expanded his vineyards and made other future plans. Brunelli lived to share fine wines and healthy, biological food, both products of the generous Tuscan soil.

In le Logge you could hear the cheerful noise of his Brunello as well as the reigning calm of his olive oil. The table reserved for friends and family was always too small to seat everyone, even though, somehow, there was always a place to join. All friends enjoyed the artisan meat and organically grown tomatoes, eggplant, zucchini, potatoes, artichokes and lettuces from Montalcino. From these pure products chef Nico Atrigna created unique, surprising, colorful and very tasty dishes; typically Tuscan, but with an international touch.

Gianni Brunelli loved to work with Tuscan people but also hired professionals from the
Veneto, Sardinia and Campania and was just as inspired by talents from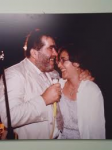 Japan, America and Africa. He traveled throughout the United States, smoked big cigars in Cuba and married on a tropical beach with Laura. Everywhere he made friends and guests from around the world visited le Logge, le Chiuse di Sotto or Podernovone. Among them famous artists, musicians, painters, authors and thousands of other anonymous lovers. They all enjoyed the passion, humour, enthusiasm and hospitality of Gianni that is still tangible.
He enjoyed the appreciation, the success, but also had to endure criticism and envy. He
was accused of cooking just for the rich and being stuck to the "flavors of the past". These critics forgot how much he invested, not just money, but also his time, his energy, his life. Why? Because Gianni wanted to show the world how important quality of life and health is and how questionable today's consumer's society is. The passion, conviction and love for his country, staff, friends and family always prevailed over the criticism. He continued to make the best wines possible, brought new impulses to le Logge and even made plans to go into politics.
All this time Laura Vacca stood by him. Never in his shadow, even though Gianni was 'the face' of his companies. They always stood side by side, clearly in love with each other and completing each other with their own talents. From 78 rpm records, Mario Lanza sang to them and made them dance and live.
They were inseparable and seemed invincible. Seemed, because mother nature showed
how inexorable and merciless she can be. In 2007, Gianni became ill and lost the unfair battle late 2008. With dozens of friends, Natascha and I visited the memorial service in the Sant' Antimo abbey. At some point, even the unbelievers among us were impressed when a ray of light pierced the misty silence and touched the audience for a moment. Gianni?
For many years, the wines of Gianni Brunelli were not available in the Netherlands, but lovers of fine Brunello were saved by Edwin Werkhoven. A few years ago he introduced the wines in the Netherlands and now they enrich various cellars of leading restaurants and passionate individuals.
A few weeks ago Edwin Werkhoven granted me some of his time and we tasted several wines from his portfolio. I was delighted to see that he also brought the wines of Gianni Brunelli. Together, we noted how Laura Brunelli-Vacca has successfully turned into an inspiring leader of her teams at le Logge and Podernovone, assisted by the multi-talented Valentina, her anchor Mirco Vigni, chef Nico, oenologist Laura Bernini and numerous friends from all around the world.

Of course, life without Gianni is not the same, but Laura found a certain peace and
balance. With confidence and convinced of the potential of her staff and vineyards she manages to continue to produce phenomenal wines and maintain Gianni's reputation. I dare to say that the wines seem even better than ever. They radiate more energy, more character and the fact that (also) the vines have matured, echoes in the wines.
The style of the wines haven't changed. The quality of the grapes
determines for which wines they will be used. Lighter structured grapes for the Rosso and, if the vintage allows it, a special
selection of grapes for an always stunning Riserva. Because Laura owns several plots, each with their own identity, she can an ideal blend for her regular Brunello every year. The wine undergoes a medium lang soaking and fermentation in temperature controlled stainless steel tanks, followed by aging in 20/30 hl wooden casks of Slavonian oak. Total production is about 30.000 bottles, including the Amor Costanti, a blend of Sangiovese with some Merlot.
The style of the wines is authentic, very clean, powerful but always drinkable. The result of respect for the fruit, the historical and cultural significance of tradition in Montalcino and common sense that is not blind to the reality and innovation. The wines can age exemplary as vertical tastings have shown. The Rosso peaks after 2 to 3 years of bottle aging (the 2011 is outrageous right now) and Annata van age without any problems for 10-20 years. I drank the 1991 two years ago and was impressed by the quality of this matured, but still very lively wine. The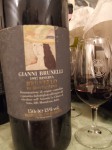 intensity of the Riserva huge, and shows an impressive aging
potential. It's not a wine to drink young, but to cherish for some in your cellar before enjoying it. Two days after opening a Riserva 2007, I found some wine left in the bottle; it was still in excellent condition. The Riserva 2006 and 2001 should last decades. And Amor Costanti? Without doubt a neat wine and there are silly American who rate it higher than the Brunello, but oh well……..
The prices of the wines are very reasonable and a small investment to make a great Christmas meal 'just perfect'. Edwin Werkhoven can you all about the wines available and
when you see or talk to him, do yourself a favour. Also ask him about the truly great Nebbiolo of Mamete Prevostini from Valtellina and those of Brezza from Barolo. And don't forget the outstanding Sauvignon Blanc Sanct Valentin of St. Michael Eppan…..